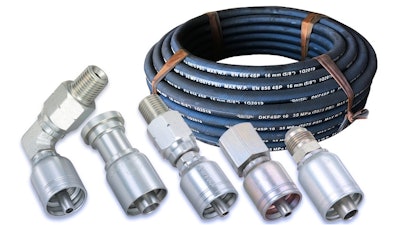 Dayco (Troy, MI) is rounding out its hydraulic offering with the expansion of its KWIK-FLEX product line, a competitively priced line that was only available on a limited basis in Canada. KWIK-FLEX now includes more comprehensive coverage for the most popular types and sizes of hoses and fittings and is available to customers in both the United States and Canada for order.
The initial product offering includes a variety of different hose types — all of which meet or exceed the appropriate SAE hose ratings. KWIK-FLEX also features some of the most popular fitting types to ensure leak-proof performance regardless of application, including JIC, 45° flare, O-ring boss, O-ring face seal, flange and American dryseal pipe thread.

The KWIK-FLEX line features 600+ part numbers and covers the most popular industrial applications including agriculture, timber, construction, manufacturing and transportation equipment. The hoses are constructed to move hydraulic fluids at normal flow rates yet engineered to handle a wide temperature range and abrasive conditions.