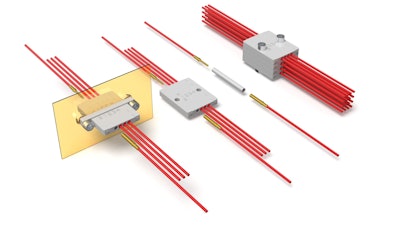 Littlefuse
Littelfuse, Inc., an industrial technology manufacturing company empowering a sustainable, connected, and safer world, announced the C&K SpaceSplice Series Wire Connecting Solution, designed to replace manual splicing processes in harsh environments. These connectors provide a standardized, easy-to-use, high-reliability solution manufactured to the highest standards. The SpaceSplice connectors are a unique solution to wire-to-wire connection, designed to replace hand splice processes with a standardized solution that reduces labor time and is easy to use. It allows the connection of two wires using a D*MA crimpable and removable contact technology. SpaceSplice is designed to accept the most relevant gauges, reducing cost, and ensuring that only the required wires are used. Designed to meet the highest quality requirements, SpaceSplice is ideal for demanding wiring systems, including:
Military/aerospace applications like satellites,
Launchers and payloads,
heater, thermistor, and multilayer insulator (MLI) connections, and
Other harsh environment applications.
"The SpaceSplice connectors design provides a high-reliability solution that replaces manual splicing processes, offering a standardized alternative that is easy to use, reducing labor time and cost while increasing reliability," said Rémi Antoine, Global Product Manager at C&K Aerospace, now part of Littelfuse. The SpaceSplice Series Wire Connecting Solution, with its unique design featuring removable crimp contacts, provides the following benefits:
Employs removable, D*MA crimpable contact technology,
Allows for both manual and guiding-tool-assisted insertion,
Accepts the most popular cable gauges (AWG 20 – AWG 30),
Provides high radiation and temperature resistance,
Low residual magnetism and low degassing,
Compliant with European Space Agency (ESA/ESCC 3401/097) specifications.
How It Works
The SpaceSplice Wire Connecting Solution is available in a one-way series that connects two wires with a standard solution and a four-way series that is a stackable wire-to-wire connector with removable contacts, which can be beneficial in space applications where more than four ways are required. (View the video.)
Availability
SpaceSplice is available and packaged for delivery in quantities of 50 for one-way and 20 for four-way configurations. Place sample requests through authorized Littelfuse distributors worldwide. For a listing of Littelfuse distributors, please visit Littelfuse.com.
For More Information
Additional information is available on the SpaceSplice product page. For technical questions, please contact Rémi Antoine, Global Product Manager, at [email protected].