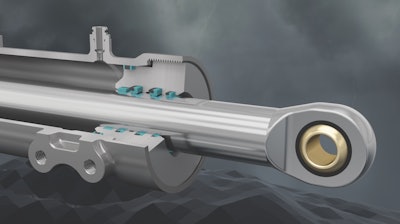 Trelleborg
Trelleborg Sealing Solutions Aerospace launches the unique and revolutionary Turcon VL Seal II for hydraulic sealing of actuators in flight controls and landing gear, and seals in landing gear shock absorbers.
Based on the groundbreaking and well-proven Turcon VL Seal, this new generation seal offers enhanced sealing efficiency, easier installation, and even greater reliability. Extensive testing proves its outstanding 'zero' leakage performance, to extend service life and minimize planned maintenance.
Compared to the Turcon VL Seal, the Turcon VL Seal II back-pumping performance more than doubled up to 3,000 psi and nearly doubled at pressures up to 5,000 psi. Accumulative leakage was around 4 milliliters less and significantly lower (around a half) from 1,000,000 to 2,000,000 cycles.
Turcon VL Seal II is a unidirectional rod seal for reciprocating movements, consisting of an "L" shaped Turcon jacket energized by an O-Ring. The innovative design of the seal combines the unique back pumping capability of the Turcon VL Seal with new patented features. An angled seal back allows seal width adjustment to service pressure, improving leakage control, while a leading protective front lip safeguards the sealing edge during hardware assembly. In addition, the seal's FEA optimized design improves support for and containment of the O-Ring.
For further information, go to www.tss.trelleborg.com.