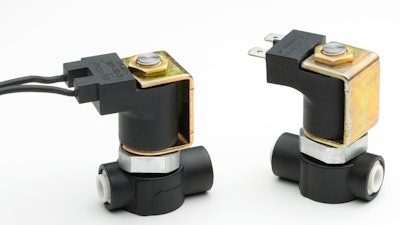 Solenoid Solutions
Solenoid Solutions' high-performance Wattimizer series solenoid valves are now available with a plastic body ideal for air, gas, and corrosive media.
For many applications, plastic valve bodies offer significant value over metal-based bodies because they're lightweight, corrosion-resistant, offer a lower profile and use convenient push-to-connect fittings — all at a lower cost.
The plastic valve body is approximately 1-inch diameter, comes with integral 1/4-inch OD tube "push-to-connect" port fittings and has a maximum pressure rating of 125 psig at room temperature. Plastic bodies and manifolds are designed for medical, beverage, appliance, fluid power, automotive, gas, and more; and can be used in direct acting and pilot applications.
The Wattmizer is a highly efficient, miniature electric 12v solenoid valve designed for use in compact areas requiring low power draw. These 2-way and 3-way solenoid valves are offered in a range of .65 to 9 watts of continuous power, with operating pressure capacities of up to 1200 psi (85 bar) with machined metal bodies. 
Plastic valve bodies are limited to low pressure applications up to 125 psi.
For information, visit www.SolenoidSolutionsInc.com.