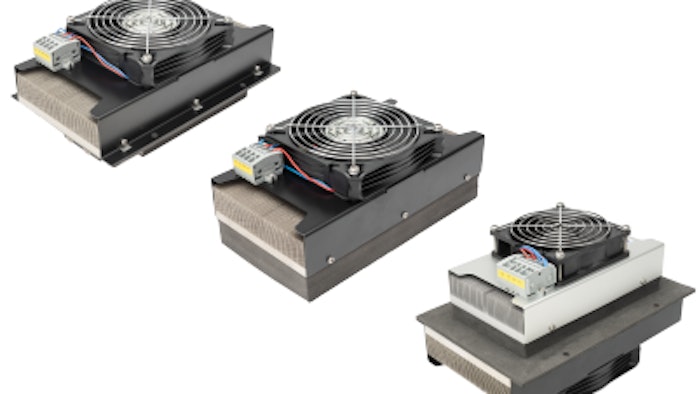 Laird Thermal Systems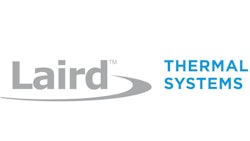 Laird Thermal Systems
Laird Thermal Systems has expanded its SuperCool Series product offering with the development of three high performance ultra-compact Peltier Cooler assemblies.
The space-saving SuperCool Series is designed for applications that require high cooling capacities in tight space constraints such as chambers in medical diagnostics and sample storage compartments in analytical instrumentation. The smaller, refrigerant-free thermoelectric assemblies provide an environmentally friendly alternative to compressor-based systems for precise temperature control.
The new SuperCool Series provides engineers with three heat transfer options on the control side. Heat can be absorbed via liquid, conduction or convection. The Liquid to Air unit is only 230 mm x 150 mm x 109 mm and offers a cooling capacity of 140 Watts. The Direct to Air model is only 230 mm x 123 mm x 103 mm and has a cooling capacity of 130 Watts and the Air to Air unit is 230 mm x 150 mm x 156 mm with a capacity of 110 Watts. All cooling capacities are measured at ?T=0°C and operate on a nominal voltage of 24 VDC.
Recent government regulations on the use of traditional and natural refrigerants critical to compressor-based systems make Peltier Cooling an appealing substitute. The compact SuperCool Series Peltier assemblies do not use refrigerants. Instead, the SuperCool Series has a unique hot side air heat sink design that dissipates heat more efficiently than conventional heat exchanger technologies. It uses customized Peltier modules that were specifically optimized to dissipate heat thru the high-performance heat exchanger assembly. The expanded SuperCool Series transfers heat to air more rapidly and is also quieter than previous models. Moisture resistant insulation and proprietary barrier seal protection is used to keep condensation from penetrating into the thermoelectric cavity for applications that go below dew point.
For more information on the SuperCool Series, visit https://www.lairdthermal.com/products/product-series/supercool-series.