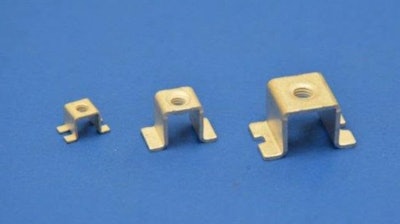 BlockMaster Electronics
BlockMaster Electronics announces the expansion of its line of through-hole electronic hardware with the addition of new surface mount screw terminals.
This new hardware accommodates 10A to 85A current loads, an industry-leading high current range. The new 10, 30 and 85 Amp screw terminals are available in both straight and right-angle versions. Each offers an optional screw, flat and lock washer. The screw terminals are brass or tin plated, RoHS compliant and available with or without M3, M4 or M5 screws.
Typical high current applications for this hardware include:
Power supplies
Solar power
Inverters
Motor controls
Batteries
Battery chargers
Automotive/Off-Road/Marine/Forklifts/Busses
For more product information, visit www.blockmaster.com.