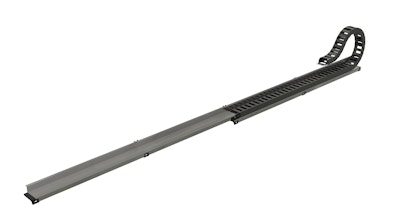 Dynatect
Dynatect's Gortrac Quick Trough combats the technical challenges posed by kit cranes' pneumatic hoses and power cables.
Crane reels, festoons and cable carriers paired with a guide trough are typically used in those space-limited, frequent-motion environments, but can result in long installation times, interference and cost, weight, complexity and space requirements.
The modular Quick Trough system is designed for:
Kit cranes

Indoor cranes

Standard crane girders

Stacked cranes
Paired with a cable carrier, the Quick Trough offers an organized, sleek approach to cable management and eliminates free hanging cables, interference and cable entanglement.
For more, visit https://dynatect.com.