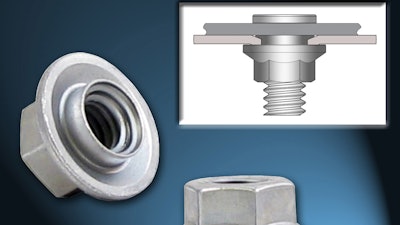 PennEngineering
PennEngineering's PEM SFN spinning flare nuts become permanently captivated upon installation in thin metal sheets and, when paired with fixed externally threaded hardware, can eliminate all loose fasteners in attachment applications. The one-piece, flanged hex nuts also spin freely in a sheet — allowing for quick attachments — and will appear identical to a standard flanged hex nut above the sheet while remaining flush on the other side.
Available in metric thread sizes M5, M6, and 8.
Can be installed in steel, stainless steel or aluminum sheets of any hardness and as thin as 1 mm.
Promotes savings in assembly time and costs.
For more information visit www.pemnet.com.