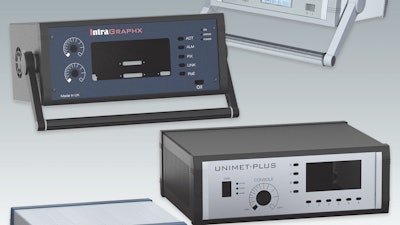 OKW
The popular Unimet and Unimet-Plus desktop and portable instrument enclosures from Metcase (Bridgeville, PA) now feature new improved bezels – enhancing their aesthetics and making them even more customizable.
Design engineers specify Unimet and Unimet-Plus for a wide range of applications, including medical, test & measurement, industrial control, peripherals and interfaces, switchboxes, communications and more.

The enclosures' new bezels now comprise eight sections – four diecast corners, two horizontal and two vertical extrusions. This means Unimet and Unimet-Plus can now be offered in custom heights as well as bespoke widths and depths. The new corner castings also offer other benefits: they are cast from zinc which allows finer tolerances and an even better fit and paint finish.
On both enclosures, the new bezel is assembled to a fabricated aluminum main case with a removable U-shaped top. Both also feature a removable rear panel that is recessed to protect connectors and switches. Other features common to both models include four non-slip rubber feet and the option to specify a bail arm. This indexable handle can be adjusted to the perfect viewing angle.
www.metcaseusa.com/en/Enclosures/Instrument-Enclosures.htm