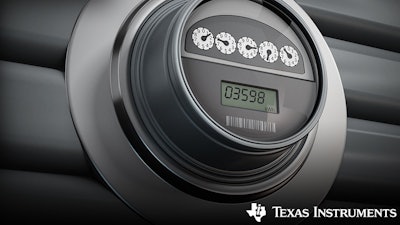 Texas Instruments
Texas Instruments introduces an ultra-low power switching regulator with the industry's lowest operating quiescent current (IQ) at 60 nA – one-third of the nearest competitive device.
The TPS62840 synchronous step-down converter delivers very high light-load efficiency of 80% at 1-µA load, which can enable designers to extend the battery life of their systems, or use fewer or smaller batteries to shrink their overall power supply solution size and reduce cost.
Additionally, the new DC/DC converter's wide input voltage (VIN) range of 1.8 V to 6.5 V supports a variety of battery chemistries and configurations.
These features plus its selectable functions enable the TPS62840 to help engineers solve critical design challenges in many battery-powered, always-on industrial and personal electronics applications – including narrow-band Internet of Things (IoT), grid infrastructure equipment and wearables – that require more flexibility, an extended wireless range, improved accuracy and reduced electromagnetic interference (EMI).
Features and benefits include:
Longer battery life, very high light-load efficiency

Selectable modes enhance performance, lower overall cost
The mode pin allows for continuous conduction mode
The stop pin turns off all switching to reduce EMI or ripple
Smaller solution size
Flexible VIN broadens applications
For more information, see www.ti.com/TPS62840-pr.