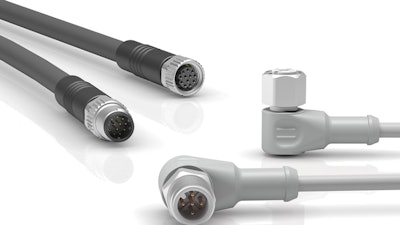 Binder USA
Binder USA offers custom M8, M12 and 7/8" sensor cordsets to provide OEMs with the ideal cable length and connector type for virtually any application.

Options include single-ended and double-ended versions with straight or right-angle connectors.

A variety of cable types, colors, and lengths can be used in combination with M8, M12 and 7/8" male and female binder connectors.

Labeling, DeviceNet, Ethernet and LED configurations are available.

Customer-supplied cables with a sensor, proximity switch or other product attached on one end can also be used.
For more, visit www.binder-connector.us.