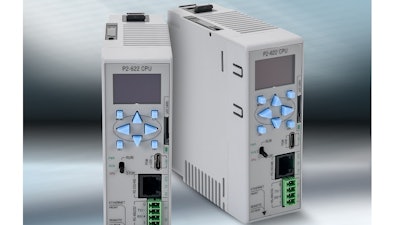 AutomationDirect (Cumming, GA) has added the next generation CPU for the Productivity2000 PLC line. The P2-622 CPU has all the functionality of the original CPU including up to 50MB ladder memory, embedded OLED status display, remote I/O and multipurpose Ethernet 10/100Base-T (RJ45) ports, and a microSD card slot.
In addition, this new CPU has a lower cost, dual software-configurable serial ports (RJ12 and 4-pin) that support both RS232 and RS485, a USB C programming port, and a new system architecture that allows for many future enhancements.
With tag name programming, easy device integration that includes PS-AMC motion controllers, GS variable frequency drives, and others, and user-focused features such as analog module data displays, Productivity2000 PLCs are a perfect fit for almost any application.
www.automationdirect.com/P2000