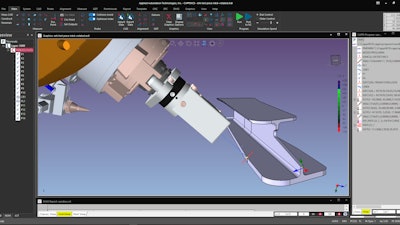 AAT3D
Applied Automation Technologies (AAT3D) (Rochester Hills, MI) secured a major software contract with a leading North American aircraft manufacturer that will integrate CAPPSNC software to directly interface with controllers on large CNC machines to provide dimensional metrology data for CMM reports, adaptive work offsets and adaptive tool offsets for 3-5 axis closed-loop manufacturing.
Applied Automation Technologies President and CEO Ray Karadayi called the CAPPSNC software "Truly Factory 4.0 smart manufacturing technology because it is using metrology information throughout the manufacturing process for adaptive control." 
The software provides easy and precise part set up and machine axis diagnostics. This pre-process approach allows the aircraft manufacturer to set specific work and tool offsets before the machining process. 
In process, adaptive manufacturing occurs when the software automatically makes machining program corrections with real-time in-process feedback through on-machine probing.
In the post-process, detailed quality reports are created for the machine with SPC analysis and metrology data.
Overall, CAPPSNC is being used for on-machine probing or on-machine 3D scanning. It supports sensor interfaces like CNC touch probes, scanning contact probes, non-contact laser scanners and non-contact CCD cameras.
It provides dynamic feedback for errors due to part offsets, errors due to part fixturing, errors due to tool wear and errors due to thermal effects. 
CAPPSNC is integrating a wide variety of CNC machines for on-machine inspection and smart manufacturing needs for machining centers, milling and turning machines, turret lathes, large scale 3D printing and additive manufacturing, waterjet and laser cutting machines as well as robotic applications.
The most recent aircraft application has been applied at four separate aircraft manufacturing facilities linking twenty different CNC machines with two additional machines to be added at a later date.