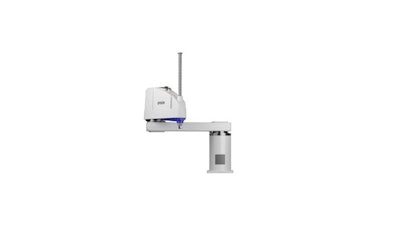 Epson Robots (Los Alamitos, CA) has introduced a new class of high-power-density SCARA robots, the GX-B Series powered by the RC700E controller with integrated SafeSense technology. Included in the series are the GX4B, GX8B, GX10B, and GX20B.
Built to perform with industrial-rated safety features, the GX-B Series takes SCARA robot performance to the next level. The GX-B Series delivers ultra-high performance and flexibility in a compact footprint. Engineered to meet unique automation needs, this series of SCARA robots offers payloads from four to 20 kg, reach up to one meter, multiple arm configurations and mounting types, integrated SafeSense technology, and high throughput with high payloads to accomplish the most demanding tasks with leading-edge precision. A breakthrough in productivity, this series uses advanced GYROPLUS vibration reduction technology to provide fast production speeds, smooth motion control and fast settling times.
The RC700E robot controller powers the entire GX-B Series, and with proper risk assessment, it can enable seamless interaction between workers and robots without a safety fence. The controller enhances productivity, enables industrial collaborative robot applications and reduces the overall footprint of robot automation systems. Featuring intelligent servo drives with GYROPLUS technology, customers can maximize throughput and integrate third-party software and hardware to build systems that suit their needs.
More than just a connection to a PC, the RC700E integrates the power of PC-based controls and the power of a real-time engine that can run up to 32 tasks with over 500 commands to optimize runtime, recovery and error handling. Featuring SafeSense technology, the NRTL safety rated RC700E provides safety limited speed and position monitoring. This enhances productivity through faster interaction with machines for daily operations and maintenance. Simultaneously, the potential elimination of physical safety barriers can help users reduce the footprint and overall cost of their robot automation systems.