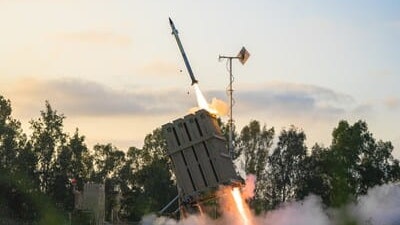 Raytheon
Raytheon in partnership with Rafael Advanced Defense Systems, will build a manufacturing facility in East Camden, Arkansas to produce the Tamir missile for the Iron Dome Weapon System and its U.S. variant, SkyHunter.
Through the established Raytheon-Rafael Area Protection Systems joint venture, the companies have committed to a $33 million capital investment to establish the new facility. Once operational, the facility will produce missiles for the U.S. Marine Corps and other allied partners.
"This new Camden site will be the first all-up-round production facility in the U.S. to help support the Armed Forces and allies across the globe with this highly capable air-defense missile," said Raytheon's Tom Laliberty, president of Land & Air Defense Systems and Raytheon-Rafael Area Protection Systems chairman of the board. "This new facility will allow us to expand our presence in Camden and further benefit from the resident talent and expertise of this aerospace and defense epicenter."
Raytheon and Rafael have teamed for over a decade on Iron Dome, which has more than 5,000 operational intercepts and a success rate exceeding 90%. The U.S. version of the Iron Dome Weapon System's Tamir, SkyHunter, is a medium-range air defense weapon designed to counter a range of threats, including cruise missiles, manned and unmanned aircraft, rockets, artillery and mortars. SkyHunter missiles will be produced for the U.S. Marine Corps Medium Range Intercept Capability, or MRIC, program.
"Arkansas is proud to be a leader in aerospace and defense, helping to safeguard the freedom and security of the United States and its allies around the world," said Clint O'Neal, executive director of the Arkansas Economic Development Commission. "East Camden offers an experienced workforce for Raytheon and Rafael Advanced Defense Systems' new venture, and we look forward to the community's and the companies' success."
The joint venture plans to break ground on the new facility before the end of the year with the intent to begin missile production in 2025.