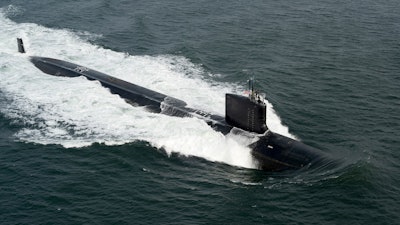 General Dynamics
General Dynamics Electric Boat, a business unit of General Dynamics, announced today it has been awarded a $967 million contract modification from the U.S. Navy for Lead Yard Support and Development and Design efforts for Virginia-class fast-attack submarines.
The cost-plus-fixed fee modification to a previously awarded contract totals $967,185,528. Work will be performed in Groton, Connecticut; McLeansville, North Carolina; Newport News, Virginia; and Newport and Quonset Point, Rhode Island. Work is expected to be completed by October 2024. This contract was awarded on September 29. 2023.
Virginia-class submarines are designed for the full range of 21st-century mission requirements, including anti-submarine and surface ship warfare and special operations support.
General Dynamics Electric Boat is the prime contractor and lead design yard for the Virginia class and constructs the ships in a teaming arrangement with HII's Newport News Shipbuilding in Virginia.