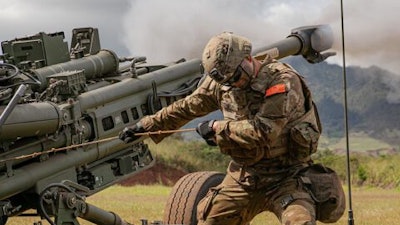 General Dynamics
General Dynamics Ordnance and Tactical Systems (OTS), a business unit of General Dynamics announced today it was awarded a $218 million initial task order for 155mm M1128 Load, Assemble, and Pack (LAP). The task order, awarded under a $974 million multiyear firm-fixed-price U.S. Army contract, awarded to OTS and another company, includes funding for M1128 facilitization and production at OTS's operations in Camden, Arkansas.
M1128 new generation projectiles are part of the U.S. Army's effort to modernize and expand 155mm artillery production.
OTS was awarded a similar contract in February 2023 for M795 LAP facilitization of 20,000 rounds per month. Combined together, the two awards support 50,000 rounds per month of new LAP capacity by 2025. GD-OTS will also expand industrial capacity to produce the vital base bleed assemblies for the projectile.
This contract will fund the installation of a LAP facility using modernized processes and the latest generation air-cooling techniques. The air-cooling technology has been demonstrated to improve the quality and efficiency of the 155mm artillery LAP process, while leveraging more environmentally responsible methods to reduce hazardous waste.