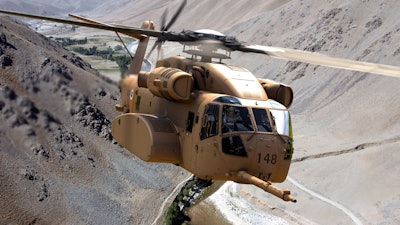 Sikorsky
The U.S. Navy awarded Sikorsky, a Lockheed Martin company (NYSE: LMT), a $2.7 billion contract to build and deliver 35 additional CH-53K® helicopters – the largest procurement to date for this multi-mission aircraft.
"This contract award for 35 CH-53K helicopters stabilizes Sikorsky's nationwide supply base, creates additional production efficiencies, and provides the U.S. Marine Corps with transformative 21st century technologies," said Paul Lemmo, president of Sikorsky. "Our long-standing partnership led to this best value contract award providing the capability and readiness the Marines need."
The agreement includes 12 U.S. Marine Corps Lot 7 aircraft, 15 U.S. Marine Corps Lot 8 aircraft, and eight aircraft for Israel.
Sikorsky will begin delivering these aircraft in 2026.
This contract significantly advances Sikorsky and the U.S. Navy on the path toward a multi-year agreement and the 200 aircraft Marine Corps Program of Record.
The U.S Navy declared Full Rate Production for the CH-53K program in December 2022. This is expected to increase production to more than 20 helicopters annually in the coming years.
Sikorsky is procuring long-lead items and critical materials to support ramp up of CH-53K production in its digital factory.