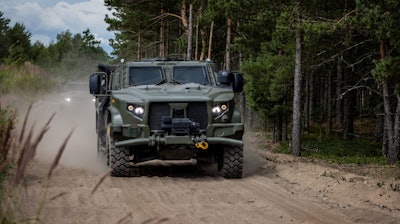 Oshkosh Defense
Oshkosh Defense today announced a $102 Million order from the U.S. Army Contracting Command – Detroit Arsenal for Joint Light Tactical Vehicles (JLTVs).
The JLTVs will be delivered to Romania, Lithuania, North Macedonia, Brazil and Montenegro.
According to the company, NATO, allied and coalition partners continue to leverage the JLTV's mobility, protection, reliability and interoperability in a light tactical vehicle. To date, seven international customers have ordered or committed to Oshkosh Defense's JLTVs.
According to John Lazar, vice president, international for Oshkosh Defense, Lithuania recently received its second delivery of JLTVs. By the end of 2024, the country will have a fleet of 500 light tactical vehicles.