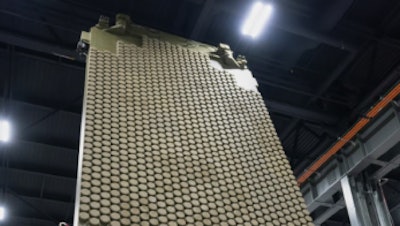 Lockheed Martin
Lockheed Martin's new transportable or fixed air defense long-range radar, AN/TPY-4 – which was recently selected by the U.S. Air Force for the Three Dimensional Expeditionary Long Range Radar (3DELRR) Rapid Prototyping program – has completed production.
"Lockheed Martin is committed to investing in advanced defense technology, and the TPY-4 radar is a direct result of those investments," said Rick Herodes, Director of Ground Based Air Surveillance Radars at Lockheed Martin. "TPY-4 meets the needs of a rapidly changing battlefields, marked by technological growth and the emergence of increasingly challenging threats."
Lockheed Martin is providing this radar both in the U.S. and internationally.
In March, the U.S. Air Force selected the TPY-4 radar as the best radar for the 3DELRR program. The 3DELRR contract includes production options for 35 long-range radar systems, planned to reach Initial Operational Capability.
In July 2021, the radar received official nomenclature from the U.S. Government and Kongsberg Defence & Aerospace (KDA) delivered the Platform Electronics Subsystem (PES) for the first TPY-4 radar. The Lockheed Martin and KDA partnership leverages Lockheed Martin's state of the art radar technology and KDA's experience in defense industry solutions, resulting in a next generation sensor that meets and exceeds current long range surveillance requirements.
TPY 4 is designed as a multi-mission system capable of tracking current and emerging threats, and will integrate into existing air defense systems. It can operate in contested RF environments and it integrates the latest mature commercial technologies.
The radar system is fully digital at every transmit/receive element with a software-defined sensor architecture, allowing the radar to adjust to emerging threats and missions. It's individually software-controlled digital transmitters and receivers provide flexibility to change performance for new missions and environments while providing ease of adaptation to future advanced threats.