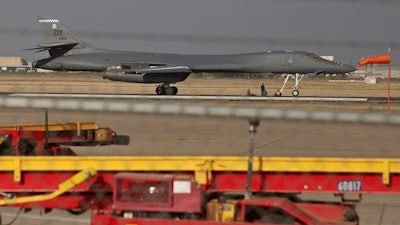 Jacob Ford/Odessa American via AP
An aerospace and defense contractor is defending its ejection seat amid an ongoing investigation by the U.S. Air Force.

The head of Air Force programs for UTC Aerospace Systems told Military.com that an electronic ejection sequencing system, rather that the UTC-made seat, was likely to blame for an incident that prompted an emergency landing by an Air Force bomber in May.

Reports said the B-1B Lancer was on a training flight when an engine fire broke out. After an attempt to eject failed, the crew landed at Midland Airport in West Texas.

Fyfe told the publication that after consulting with the Air Force, the company believes that, in effect, "the ejection seat was never given the command to fire" due to an issue with the complicated sequencing needed to eject airmen in an emergency.

UTC, he added, is one of numerous vendors that also supply complete ejection systems to the military, but that the sequencing system on the bomber in question "was not ours."

The Air Force grounded its B-1B fleet in response to the faulty ejection, and Air Force officials indicated its mechanics made fixing the systems a priority.