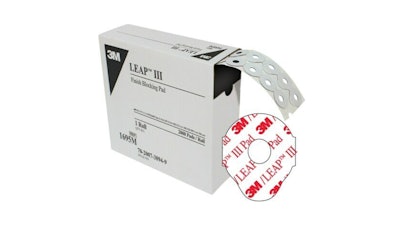 3M
3M today announced that DAC Technologies, a global leader in optical lens manufacturing solutions, has entered into an agreement to acquire the LEAP III brand. The acquisition closed on Oct. 30, 2023.
LEAP III pads are blocking pads, also known as edging pads, that are used when edging lenses in the finishing department of optical wholesale labs and optical retailers.
For years, 3M's optical lens processing products have been recognized by optical labs worldwide as a benchmark for quality and performance. LEAP III edging pads offer premium slip resistance, keeping lenses firmly in place during edging.
As part of the sale of the LEAP III brand, 3M and DAC Technologies have entered into an exclusive supply agreement for 3M to supply DAC Technologies with the base component material from which LEAP III pads are made.