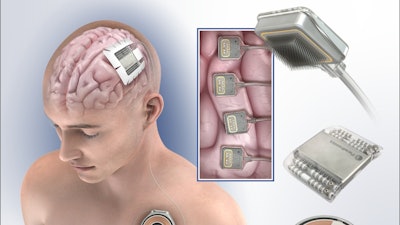 Paradromics
Paradromics Inc., the leading developer of high data-rate brain-computer interfaces (BCI), today announced a $33 million Series A funding round led by Prime Movers Lab. Additional investors include Westcott Investment Group, Dolby Family Ventures, and Green Sands Equity. The new funding will help Paradromics launch its first-in-human clinical trial for the Connexus Direct Data Interface (DDI).
In addition to the funding, Paradromics announced that the U.S. Food and Drug Administration has granted the Connexus DDI "Breakthrough Device Designation", which offers an expedited review process for transformative medical devices with the potential to treat irreversibly debilitating conditions.
Conditions like ALS, spinal cord injury, and stroke may cause severe motor impairment, affecting patients' ability to communicate. Many of these patients have intact, highly active brains but may struggle to speak or use a computer or rely on slow, frustrating gaze-tracking systems. The first application of the Connexus DDI is an assistive communication device that translates brain signals into speech and movement in real time, restoring social connection and enabling independent engagement with technology.
"By building a medical device to record directly from the brain, the Paradromics neuroprosthesis could restore communication and functional independence to thousands of people living with paralysis," says Dr. David Brandman, a functional neurosurgeon and BCI researcher.
Beyond assistive communication, BCI has the potential to address a range of currently unmet medical needs, from motor and sensory deficits to chronic pain and mood disorders. Treatment-resistant mental illness alone represents an estimated U.S. market of $240 billion. This latest funding round demonstrates confidence that Paradromics is a well-positioned player in these massive BCI markets.