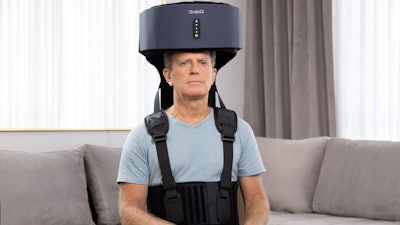 Brooks Rehabilitation
Brooks Rehabilitation's first participant in the national stroke recovery trial, EMAGINE, has just completed study participation. The randomized, double-blind study tests whether a non-invasive, wearable device that delivers an electromagnetic field to brain networks can reduce disability and improve recovery following moderate to severe ischemic stroke.
Brooks is one of up to 20 research and medical institutions in the United States who have been selected to participate in this pivotal study, with Clinical Research Scientist and Director of Neuromuscular Research, Emily Fox, PT, DPT, PhD, leading the charge as Site Principal Investigator at Brooks.
The device, which received FDA Breakthrough Device Designation, is designed to accompany participants throughout their recovery journeys, beginning as early as acute hospitalization, and moving with them to the inpatient rehab facility and eventually home. The EMAGINE study allows participants to use the investigational therapy from their homes with the oversight of a trained caregiver. A study team member joins therapy sessions periodically using a remote computer platform.
The technology uses explanatory machine learning to extract biological features found in brainwaves. These features are then used to target networks in the brain via a low-intensity, frequency-tuned electromagnetic field therapy with the goal of facilitating neuro-recovery. The therapy is intended to be used in combination with the current standard of care in physical or occupational therapy.
The EMAGINE stroke recovery trial will enroll 150 randomized subjects nationwide 4-21 days following a stroke. Trial participants will undergo 45 sessions over a total of 9 weeks, 5 times a week. Each session will last for 60 minutes.