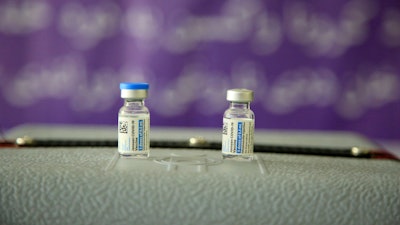 AP Photo/Mariam Zuhaib
BALTIMORE (AP) — The U.S. Food and Drug Administration is allowing the troubled factory of contract manufacturer Emergent BioSolutions to resume production of COVID-19 vaccine bulk substance, the company said Thursday.
The Baltimore factory was shut down by the FDA in mid-April due to contamination problems that forced the company to throw out the equivalent of tens of millions of doses of vaccine it was making under contract for Johnson & Johnson.
The bulk vaccine was contaminated with an ingredient for AstraZeneca's COVID-19 vaccine, which was made in the same factory. Emergent didn't say when production will resume at the factory.
The productions problems forced J&J to import millions of doses from its factory in the Netherlands to the U.S. and to miss supply commitments. Emergent Chief Executive Robert Kramer said the company had fallen short of the public's expectations.
The Biden administration has been working to find a different American manufacturing partner for British drugmaker AstraZeneca, whose COVID-19 vaccine isn't authorized for distribution in the U.S.