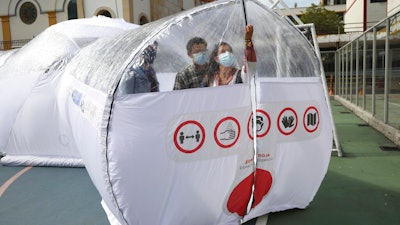 AP Photo/Fernando Vergara
BOGOTA, Colombia (AP) — A shortage of hospital beds during the coronavirus pandemic has led architects in Colombia to design portable, inflatable chambers for coronavirus patients that can be placed in gyms or parking lots.
The domes — each 5 meters (16-feet) wide — can house two patients and are connected by inflatable hallways. Tubes help circulate air, which can cycle through 16 times an hour, according to the architects.
Developers around the world have devised other inflatable or pop-up structures to cope with the wave of COVID-19 patients, some for small wards, others for a few patients and some for individuals.
The version at Bogota's La Salle University includes eight, interconnected domes that can house 16 patients, and costs around $15,000, according to researchers. Units can be added or subtracted as needed.