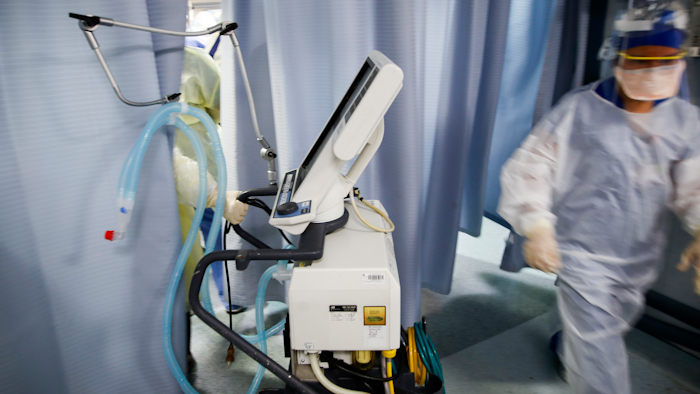 AP Photo/John Minchillo
New York state officials are attempting to recover millions of dollars from a Silicon Valley electrical engineer after an order for hundreds of ventilators never materialized.
BuzzFeed News reports that the state paid Yaron Oren-Pines $69 million for 1,450 ventilators as the coronavirus pandemic erupted in the state in late March. But Oren-Pines, according to the report, specializes in mobile phone technology and had no apparent experience with medical equipment or government contracts.
Instead, he appeared to be one of thousands of replies to a tweet from President Trump demanding that Ford and General Motors begin producing ventilators.
"We can supply ICU ventilators, invasive and non-invasive," Oren-Pines wrote on March 27, according to BuzzFeed. "Have someone call me URGENT."
New York, which approved numerous questionable medical vendors as the pandemic overwhelmed some hospitals, issued the contract three days later after what a state official said was a direct recommendation from the White House's coronavirus task force.
The state never received any of the ventilators. Officials said the contract has been terminated and that they are working to claw back the money.
The contract was the state health department's largest single order under a streamlined procurement process enacted to combat the outbreak. The deal valued each ventilator at more than $47,000 — reportedly some three times the usual price of high-end ventilators.
The report suggested Oren-Pines' claim could be linked to an Israeli entrepreneur, who asserted on Twitter that he could acquire 1,400 ventilators for that country's defense ministry. Oren-Pines declined to comment when reached by BuzzFeed.
The article added it remains unclear how Oren-Pines came to the White House's attention. A spokeswoman for Vice President Mike Pence, who heads the coronavirus task force, responded after BuzzFeed published the article that the panel "was never informed of this contract and was not involved in it at all."