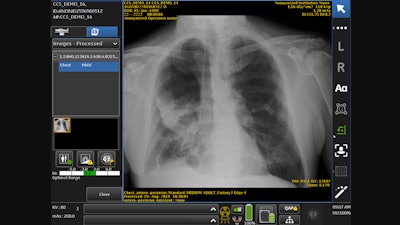 General Electric
General Electric's healthcare division on Thursday announced regulatory approval of an industry-first x-ray device equipped with artificial intelligence capabilities.

GE Healthcare developed Critical Care Suite with researchers from the University of California-San Francisco. The mobile x-ray device includes embedded AI algorithms to quickly evaluate images when a particular type of collapsed lung, known as a pneumothorax, is suspected.

The U.S. Food and Drug Administration cleared the device as "safe and effective" under a 510(k) review.

"When a patient X-ray is taken, the minutes and hours it takes to process and interpret the image can impact the outcome in either direction," UCSF surgeon Rachael Callcut said in a statement.

The system, built on GE Healthcare's Edison platform, automatically searches for a pneumothorax during the initial scan, and, if one is found, sends an alert to radiologists. Ordinarily, even prioritized x-rays can take up to eight hours to review.

The device also helps curb the number of scans unnecessarily marked as high-priority.

GE officials said the x-ray is the first of the wide range of medical applications that will benefit from AI.

"By integrating AI into every aspect of care, we will ultimately improve patient outcomes, reduce waste and inefficiencies and eliminate costly errors," said GE Healthcare President and CEO Kieran Murphy.