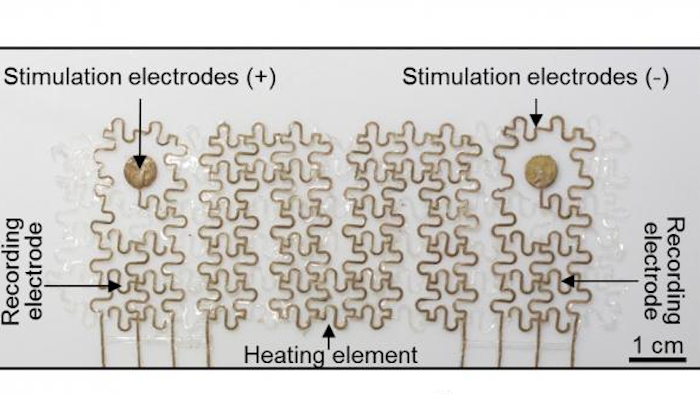 Institute for Basic Science
A flexible wearable device successfully tested on a pig heart could pave the way to implanted medical devices that help address a wide variety of health conditions.

Researchers from the the Institute for Basic Science's Center for Nanoparticle Research developed a bioelectric mesh that not only monitors electrophysical signals but can deliver electrical or thermal stimulation to the area where it is worn or implanted.

The research team fitted the device, made of a rubbery material called polystyrene-butadiene-styrene mixed with gold-coated silver nanowires, around a human forearm and around part of a swine heart during a study detailed in the journal Nature Nanotechnology.

Scientists said the gold plating prevents toxic silver from leaching out of the device, as well as helps stop corrosion due to perspiration or other normal exposure.

The mesh did not interfere with the pig heart's normal beating, but it was able to measure its activity and detect a change caused by a heart attack.

"Although various soft cardiac devices have been reported for the rat heart, this study on pigs can approximate human physiology more accurately," Choi Suji, the study's first co-author, said in a statement.

Researchers suggested that in addition to identifying cardiac or muscle problems, electrical or thermal signals could be used to relieve pain, aid in rehabilitation or help with prosthetic muscle control.