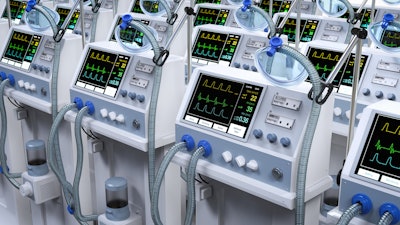 iStock
In light of the COVID-19 pandemic, and future large-scale health crises, medical device manufacturers must be able to pivot more rapidly from producing products with decreased demand to high-demand, lifesaving products and scale and accelerate production. Yet where a faster, more flexible and scalable manufacturing environment is needed, relying on outdated, paper-based processes impede these efforts.
Device history records (DHRs) are a critical, but often overlooked, opportunity to create connected, paperless efficiencies that accelerate the release of a product to market.
Common Paper Problems
When medical device manufacturers use a paper-based system to manage their DHRs, the process of creating and maintaining complete, orderly records is inherently slow and inefficient, cumbersome and prone to preventable errors. For a new medical device, it can take days or even weeks to build a paper-based master DHR from scratch, depending on the product's complexity. When medical device products are needed during a health crisis, there is very little margin for error in balancing speed with quality and compliance.
Another problem with paper-based DHR processes is they are not connected to other systems. Because paper DHRs don't automatically integrate with electronic systems or other quality processes, tracking manufacturing changes and sharing information between different areas is all but impossible. In a paper-based system, where data remains disconnected from other information sources, it is difficult and time-consuming to report, trend and analyze data.
A configurable, fully integrated electronic DHR (eDHR) system can give manufacturers the speed and agility to adapt product development and manufacturing to high-demand areas, without the common paper DHR pains.
Easily Configure Data Collection
A fully configurable digital DHR system enables manufacturers to easily configure advanced capabilities when collecting the data, such as collection timing and frequency, multiple out-of-limit thresholds with configurable actions and notifications, predecessors and conditional paths, tables and repeatable operations when multiple iterations are required. Templates simplify and streamline the building and managing of subsequent master templates, even for product family variations.
Digitizing DHR processes with an eDHR system not only helps medical device organizations gain control of their manufacturing data and documentation – it also enables them to quickly create and deliver an audit-ready record of proper handling for every major step in producing a product. This means no more incomplete documents, no more mismarks or illegible data, no more outdated operator training, and no more disconnected quality events, which means the overall eDHR system stays audit ready.
A manufacturer may consider investing in a manufacturing execution system (MES) to track the flow of manufacturing data and create a record, but a traditional MES is complex to implement On average, it can take 16 months to implement a new MES, depending on the complexity, whereas the implementation time of a fully configurable eDHR system – from planning to go-live – can be eight weeks. Once implemented, the eDHR system can quickly deliver improvements in productivity and quality – eliminating data entry errors, validating in real time and enforcing quality controls without slowing production.
Seamlessly Integrate Data Sources From Across the Company
As medical device manufacturers collect data from design, development, production, quality and other areas in the manufacture of a product, the information often remains siloed due to gaps between paper or partially digitized but disconnected systems. These gaps slow the product's release to market and make it exceedingly difficult to correlate manufacturing data with other business functions to improve overall product quality.
To do this, there must be a holistic view of processes and data throughout the product life cycle, and ideally a configurable eDHR system allows for configurable connections to other business systems.
A modern, configurable eDHR system can seamlessly connect to other business systems, from quality management systems (QMS) to enterprise resource planning (ERP) systems to learning management systems (LMS). By digitizing and integrating a DHR system with these systems, manufacturers can gain a more complete view of information across the entire product life cycle. An integrated platform approach to digitally managing design history files (DHFs), technical documents and DHRs can streamline design transfer to production and accelerate data exchange companywide.
For example, integrating eDHRs with standard operating procedures (SOPs) in a QMS, bill of materials (BOM) in an ERP system, and operator training in an LMS will enable a manufacturer to quickly and easily track design, components, orders, machine data, operator training and other information needed for the device being produced.
Conclusion
Altogether, relying on paper to meet the demands of rapidly changing environments makes it impossible to gain a holistic view of data across the entire product life cycle – from development through manufacturing and quality. By eliminating preventable errors in data entry and seamlessly sharing data between systems, a fully digitized and configurable eDHR system can accelerate the release of life-saving products while ensuring quality.
There is always a need to adapt to changing demands over the years. During times of large-scale health crises like a global pandemic, the need to pivot and scale is accelerated from years to months or even weeks. If your company is not able to adapt quickly enough, you should consider transitioning from the limiting paper-based eDHR process and adopt a configurable eDHR solution.
Brian Curran is the senior vice president of strategic growth at MasterControl. He has more than 30 years of experience leading the direction for enterprise and entrepreneurial software development companies.