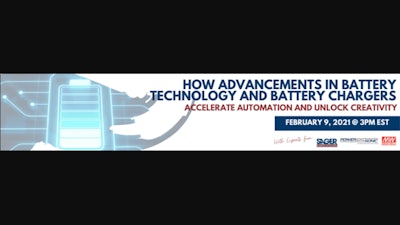 MIDDLEBOROUGH, Mass. – Sager Electronics, a leading North American distributor of Interconnect, Power and Electromechanical components and provider of value-add solutions, together with MEAN WELL, a leading power supply and battery charger manufacturer, and Power Sonic, a global leader in batteries for over 50 years, will host a live chat – "How Advancements in Battery Technology and Battery Chargers Accelerate Automation and Unlock Creativity" – on Tuesday, February 9, 2021 at 3:00 p.m. EST.
From warehouse robots to automated golf carts, automation is an integral part of modern life. When it comes to designing automated guided vehicles (AGV), engineering considerations range from structure and heat transfer characteristics, to control electronics, to computer hardware. But one of the most critical considerations in the robotics landscape is that of power. How should automated devices be powered, and how should that power be charged?
In this discussion, join battery experts from Power Sonic, MEAN WELL, and Sager Electronics as they address the industry challenges when it comes to providing power in robotics applications, battery and the high-efficiency charger advancements that are changing the robotics industry, how a custom solution may be a designer's best option, and real-world examples of AGV robots harnessing the power of battery advancements.
To register for this free live chat, click here.