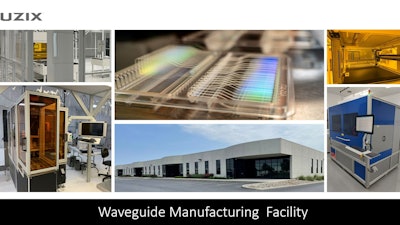 Vuzix
Vuzix, a supplier of smart glasses and Augmented Reality (AR) technology and products, today announced that it has certified and commenced sampling waveguides for both in-house and OEM programs at its new mega manufacturing facility, meeting the company's timeline objectives. Initial waveguides are targeted for use in products based on the company's Ultralite OEM Platform.
This production facility is located adjacent to the company's headquarters and currently encompasses 12,000 square feet of primarily class 1K and class 10K clean rooms. Vuzix has the option to lease the building's remaining 27,000 square feet when increased product demand warrants it. This new facility augments an additional ~10,000 square foot production facility located in the company's headquarters.
In addition to significantly increasing unit capacity and lowering manufacturing costs, the new facility will also focus on the advancement of higher index materials, advanced glass substrates and unique formulation technologies.
Broad in-house capabilities also include rapid specification to design, mold production, replication and test, system integration, and waveguide fabrication that will now include small and large format waveguide designs. This unique waveguide manufacturing facility enables not only the anticipated multi-billion-dollar augmented reality smart glasses market but other large markets like heads-up displays for in-vehicle use cases and more.
An official ribbon cutting ceremony is slated to take place in early December of this year.