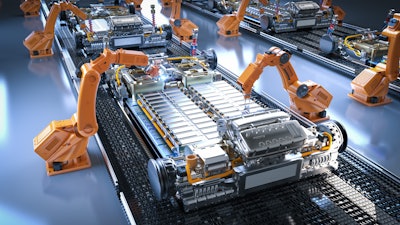 iStock
LG Energy Solution, a global manufacturer of lithium-ion batteries for electric vehicles, mobility, IT and energy storage systems, announced it would invest a total of $5.5 billion to build a battery manufacturing complex in Queen Creek, Arizona.
The complex will consist of two manufacturing facilities, one for cylindrical batteries for EVs and another for lithium iron phosphate (LFP) pouch-type batteries for energy storage systems (ESS). The investment represents the largest single investment ever for a stand-alone battery manufacturing facility in North America.
"With this historic investment from LGES, Arizona has become the battery manufacturing capital of the country," Governor Katie Hobbs said. "These Arizona-made batteries will power green, sustainable technologies around the world."
The $5.5 billion is nearly four times the initially-announced investment of $1.4 billion. The $3.2 billion cylindrical battery manufacturing facility will have a capacity of 27 GWh. The $2.3 billion LFP pouch-type battery facility will have a capacity of 16 GWh. Both facilities are expected to break ground this year and lead to the creation of thousands of new jobs.
The new cylindrical battery manufacturing facility aims to start mass production of 2170 cells in 2025, mainly for EV makers in North America. It is the first-ever U.S. cylindrical battery manufacturing facility solely invested by a Korean battery manufacturer.
"Today's announcement will not only support thousands of good-paying local jobs, but it will also boost Arizona's position as a leader in manufacturing and renewable energy," Senator Mark Kelly said. "Thanks to unprecedented federal investments in American-made clean energy manufacturing, Arizonans will see stronger supply chains, lower costs and a more competitive economy for the generations to come."
The company's new manufacturing facilities will utilize a state-of-the-art smart factory system that carries out all decision making on machine-produced data. By implementing this key measure to enhance product quality, the Arizona facilities will aim to increase yield, improve manufacturing processes and boost productivity to better respond to the ever-rising battery demands in the region.
LGES' expansion adds to a recent string of battery announcements in Arizona. In February, Ecobat announced plans to build a lithium-ion battery recycling facility in Casa Grande. In December, American Battery Factory announced it is investing $1.2 billion to build a lithium-ion battery manufacturing facility in Tucson, creating 1,000 jobs, and Sion Power announced it is expanding its battery manufacturing operations in Tucson, creating over 150 jobs.