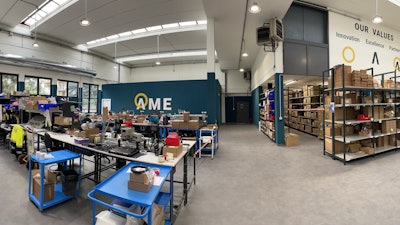 AME
AME solutions create a smart, real-time, hazard warning environment that immediately interacts with robots, automated machines, AGVs, vehicles, and forklifts. AME offers cloud-based safety platform that analyses and processes data and real-time information to prevent collisions. It can be applied across wide range of applications, including tunneling, construction, intra-logistics, warehousing, and other industrial facilities.
Its new headquarters comprises a 1,400-square-meter facility developed over two floors. The site has been carefully designed internally and externally to deliver a comfortable, user-friendly environment that promotes innovation and collaboration and that represents the DNA and values of the AME brand.
AME was co-founded in 1999 in Florence by Claudio Salvador and Filippo Bonifacio. Today, alongside its new headquarters, the company has a presence in both Germany and Virginia. Its solutions are utilized by over 1,200 customers in more than 22 countries.
The new Florence headquarters has doubled AME's production floor area by 400 square meters to meet the growing demand for its systems. It is situated alongside an expanding research and development area, which will enable the business to continue to push the boundaries of safety technology and deliver cutting-edge solutions to their customers.
AME's growth in the USA follows its success in opening a facility in Germany, which, in just two years, has already established sales of more than €2 million. The company ended 2022 on a strong note with sales up more than 40%.