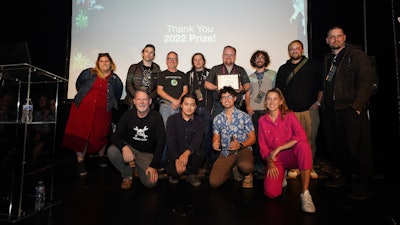 Digi-Key
Digi-Key Electronics, a supplier of electronic components and automation products in stock for immediate shipment, has announced its sponsorship of the 2022 Hackaday Prize. The awards were presented during Hackaday Supercon, a gathering of hardware hackers, builders, engineers and enthusiasts in the world.
Winners of the global hardware design challenge focused on widespread and impactful innovation. The 2022 prize winners include:
·       Grand Prize: 3D Printed Portable Wind Turbine – Adrian Cubas
·       Second Place: Bloft Waste Printer – Atte Linna
·       Third Place: Polyformer – Reiten Cheng and Swaleh Owais
·       Fourth Place: Boondock Echo – Mark J Hughes and Kaushlesh Chandel
·       Fifth Place: Kite Turbine – Roddy "Rags" Read
The Hackaday Prize, driven by the team at Supplyframe DesignLab, represents a chance for the open-source hardware community and the electronics industry to work together to deliver tangible solutions. Engineers, designers, scientists and hackers work within the United Nations Sustainable Development Goals structure to tackle the planet's most pressing issues. In addition to the grand prizes, the top 50 finalists each received a $500 prize.
"Digi-Key is thrilled to be a part of the Hackaday community and excited to once again support all the talented engineers and makers who participated in this year's design challenge prize," said David Sandys, director of technical marketing at Digi-Key Electronics. "The Hackaday prize creates impactful change through the kind of hardware innovation this amazing community can provide."
"Supplyframe is committed to supporting and championing open source hardware innovation for social impact," said Majenta Strongheart, director of Supplyframe DesignLab. "It was really wonderful to see our global community of engineers, designers, scientists, and students take on this year's challenges around sustainability, circularity, and climate crisis resiliency and deliver truly accessible and innovative solutions for renewable energy and 3D printing."
A panel of industry experts, including Jorvon Moss, technical content creator at Digi-Key known online as Odd_Jayy, selected the finalists and winners from five different challenge categories. Grand prize winners also received consideration to continue developing their entry as a resident of the Supplyframe DesignLab.