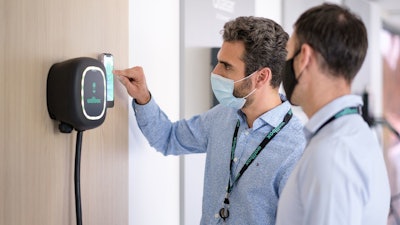 Wallbox
Wallbox, a provider of electric vehicle (EV) charging and energy management solutions, officially opened its first North American manufacturing facility in Arlington, Texas.
Designed to produce more than 250,000 units in 2022 and more than one million in 2030, the 130,000-square-foot factory will manufacture all of the company's chargers in the U.S. which will serve multiple segments of EV charging including residential charging, bidirectional charging and hyperfast highway corridor charging.
As part of the factory opening, Wallbox offered a live demonstration of Hypernova, its hyperfast DC charging solution that delivers up to 400 kW of charging power, making it ideal for highway corridors. The charger is capable of adding up to 100 miles of range in just five minutes of charging.
Hypernova was designed specifically to be deployed throughout long-distance EV corridors, the same as those defined by the National Electric Vehicle Infrastructure (NEVI) Formula Program. All Hypernova chargers produced in the Arlington facility are expected to meet Buy America requirements when production begins in 2023.
Hypernova has a centralized power system that can feed one or multiple dispenser units. The innovative design allows for a wide variety of configurations that can be upgraded over time, including the addition of more power modules or dispenser units to the installation, thereby allowing charging services operators and fleets to match current and future demand. It offers a seamless user experience with its compact size, integrated cable management system, interactive lighting system and sunlight readable touchscreen.
The Arlington facility is now producing Pulsar Plus, Wallbox's best-selling smart home EV charger that is compatible with all EVs. In 2023, the factory is expected to begin the production of Hypernova.
This new facility complements Wallbox's existing operations and services in North America, including its North American headquarters in Mountain View, California, and warehouses in Burlington, North Carolina and Bloomington, California. It is also Wallbox's fourth manufacturing facility worldwide.
The $70 million project is expected to double the local workforce over the next twelve months and bring approximately 250 jobs to the Arlington area by 2025 and approximately 700 by 2030. To further demonstrate its commitment to the local community, Wallbox is contributing $30,000 to start the Wallbox Endowed Scholarship at Tarrant County College in Fort Worth, TX. The scholarship will provide financial aid to a different TCC student each year, in perpetuity (beginning in 2025).
The new factory is being constructed through a cradle-to-cradle methodology whereby unnecessary waste is eliminated through design and eco-efficient materials. This approach is part of Wallbox's commitment to promote sustainability in all aspects of the business. The company is committed to achieve Net Zero greenhouse gas (GHG) emissions across its global footprint by 2030.