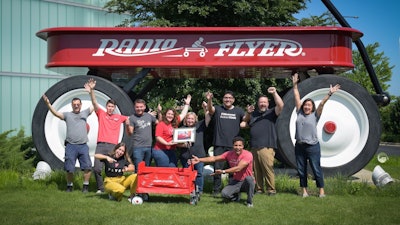 Radio Flyer
Radio Flyer, maker of The Original Little Red Wagon along with kids ride-ons and adult micro-mobility products, has become a Certified B Corporation.
The legacy brand with more than 105 years of history has become the first global toy and electric bikes (eBike) manufacturer recognized by B Labs for its commitment and progress toward positive environmental and social impact.
From sustainable packaging to carbon-neutral shipping, customers can feel certain their purchase is made with eco-conscious practices in mind. The carbon emissions from each item purchased on RadioFlyer.com is 100% offset through a verified emission reduction project. By focusing on the raw materials used in packaging construction, the company has increased the recycled content of packaging to 87%.
Radio Flyer's trailblazing efforts established the company as a leader in sustainability within the toy industry. Radio Flyer's commitment to global sustainability leads with goals and initiatives to learn and share continued progress toward environmental responsibility:
SBTI: Radio Flyer has publicly committed to science-based emission reduction goals aligned with the Science Based Targets Initiative to keep global emission reduction targets well below 2°C above pre-industrial levels.
RE100: Radio Flyer is a member of RE100, the global corporate renewable energy initiative uniting hundreds of businesses committed to using 100% renewable electricity.
Chemical Footprint Project: Aligned with efforts to better manage chemicals used in the manufacturing process, Radio Flyer has joined the Clean Production Action Chemical Footprint Project.
The Arbor Day Foundation: In partnership with The Arbor Day Foundation, Radio Flyer plants a tree for every toy purchased on radioflyer.com. Since the program began in 2013, the brand has planted over 290,000 trees.
Radio Flyer believes profits follow purpose. Over the past 20 years, the company has donated more than 15,000 fan-favorite wagons to the Starlight Children's Foundation who distribute the wagons to children's hospitals, helping bring a little light to patient transport. Radio Flyer's design team took it a step further with the introduction of the Hero Wagon, a uniquely designed wagon that allows children under medical care to feel like kids even within the walls of a hospital. Radio Flyer is donating 1,000 Hero Wagons to hospitals annually.
There are more than 4,000 B Corp certified businesses in 74 countries across 150 industries. Radio Flyer underwent the B Impact Assessment evaluation which assessed the company's overall impact on its workers, community, customers and environment.