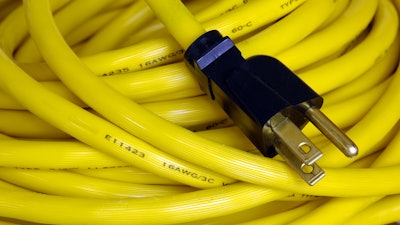 iStock
The U.S. Consumer Product Safety Commission (CPSC) is warning consumers to immediately stop using and discard male-to-male extension cords sold on Amazon.com due to shock, electrocution, fire, and carbon monoxide poisoning hazards.
The extension cords have two male ends (a three-prong plug) and are generally used to "back-feed" electricity to a residence during a power outage by connecting a generator to an outlet in the home. When plugged into a generator or outlet, the opposite end has live electricity posing a risk of serious shock or electrocution. Additionally, the flow of electric power in the direction reverse to that of the typical flow of power circumvents safety features of the home's electrical system and can result in a fire. The short length of some of these cords also encourages use of a generator near the home, which could create a risk of carbon monoxide poisoning. Furthermore, these cords do not comply with applicable national safety codes, such as National Fire Protection Association 70 (NFPA 70).
These extension cords were sold in multiple colors and lengths and under various brand names. The extension cords were sold on Amazon.com for between $40 and $72. Some of the known Amazon Standard Identification Numbers (ASINs) associated with these products are identified below. The ASIN is found in the product's URL bar (typically after the product name and "dp"). The ASIN can also be found in the product details section of the listing on Amazon.com under "Additional Information."