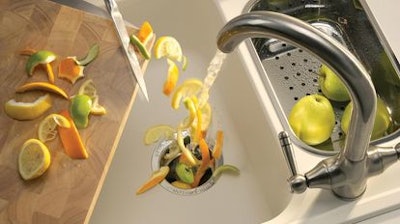 Emerson
Whirlpool Corporation today announced that it has entered into a definitive agreement with Emerson Electric to acquire InSinkErator, the world's largest manufacturer of food waste disposers and instant hot water dispensers for home and commercial use, in an all-cash transaction for $3 billion.
"We are excited for the unique opportunity to add InSinkErator to our portfolio of leading brands. The acquisition is a clear accelerator of our ongoing portfolio transformation and aligned with our stated goals of investing in high-growth and high-margin businesses and Win Americas," said Marc Bitzer, Chairman and CEO of Whirlpool Corporation. "InSinkErator is not only an iconic brand with a reputation for the highest quality and performance, but also a business that is purpose-driven and shares our vision of improving life at home. We look forward to capitalizing on the significant growth opportunities we see for this business."
Established in 1938, InSinkErator is the leader in the food waste disposal industry with a greater than 70% share and the industry's most recognized and trusted brand. On a full-year basis, ending September 30, 2022, InSinkErator is expected to generate sales of ~$650 million and EBITDA(1) in excess of $170 million.  This represents a transaction value of 14x EBITDA multiple, including future tax benefits and synergies. Following the close of the transaction, InSinkErator is expected to operate as a separate business as part of Whirlpool's North America Region. InSinkErator will maintain its headquarters in Mount Pleasant, Wisconsin.
The acquisition is expected to be immediately accretive to Whirlpool Corporation's margins, adding approximately $1.25 EPS accretion in fiscal 2023. Whirlpool Corporation also expects to generate revenue upside by capitalizing on InSinkErator's leading consumer brand preference, an installed base that is fives times larger than the rest of the industry driving a recurring sales profile, the strong underlying secular tailwinds of the U.S. housing market, and the expansion of the InSinkErator brand into new markets and product offerings.
Whirlpool Corporation plans to initially fund the acquisition through available liquidity, with new debt put in place at a later date. The acquisition, which has been approved by the Board of Directors of both companies, is subject to customary closing conditions, including regulatory approvals, and is expected to close in the fourth quarter of 2022. Whirlpool's 2022 guidance remains unchanged.