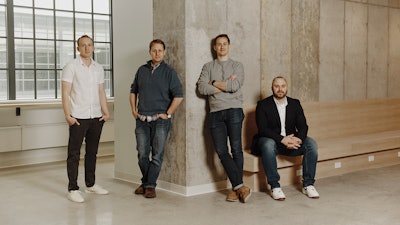 Business Wire
Foundation Alloy, a vertically integrated metal part production platform, today announced a $10 million investment co-led by The Engine, the venture firm spun out of MIT that invests in early-stage Tough Tech companies, and Material Impact. Safar Partners also participated in the round.
The funding will fuel Foundation Alloy's plans to commercialize its integrated approach to part production, enabling flexible production of high performance parts while reducing manufacturing time, waste and energy.
Specifically, the capital will go toward a pilot facility to validate and demonstrate the company's technology and value to customers.
Foundation Alloy materials technology underpins two innovations. The first creates improvements in sintering, a process in manufacturing techniques like metal-injection-molding and binder-jet 3D printing.
Using Foundation Alloy materials, parts can be free sintered to full density in less time, at lower temperatures and without deformation from slumping. Compared to current 3D printing, this allows parts to be made faster, using 50% less energy, and with higher consistency, quality, and a larger design space.
When compared to traditional manufacturing processes like casting and forging, just by enabling and improving 3D printing FA can deliver higher quality, better designed parts in days instead of months, at lower costs and with more flexibility in the supply chain.
In addition to improved producibility, FA materials can also be engineered to reach new heights in performance across properties such as specific strength and toughness.
In one early example, FA has produced a molybdenum based alloy (often used in high heat applications) with 3x the hardness of TZM, the current market leader, while maintaining other critical properties.
These innovations, when combined with Foundation Alloy's vertically integrated business model, will allow the company to not only deliver parts with 2x or more performance improvements, but also 10x or better increases in supply chain efficiency, speed and reliability.