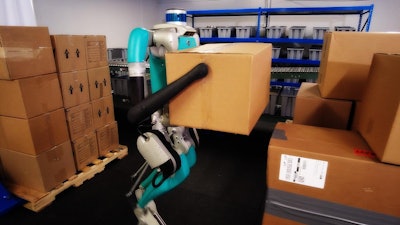 Agility Robotics
Agility Robotics, a creator and manufacturer of robots designed to work alongside people in logistics and warehouse environments, has raised $150 million led by DCVC and Playground Global. The Amazon Industrial Innovation Fund also joined as an investor to help spur innovation in the logistics industry. Agility's robots provide value to businesses by augmenting the human workforce's productivity, efficiency, and wellness. This capital raise will accelerate Agility's R&D and scale its robot production.
"Unprecedented consumer and corporate demand have created an extraordinary need for robots to support people in the workplace," said Damion Shelton, CEO of Agility Robotics. "With this investment, Agility can ramp up the delivery of robots to fill roles where there's an unmet need."
Agility's approach combines expertise across design, software and hardware to power robots that can manage tasks as part of a blended workforce. Despite the conventional wisdom that many industry problems have been addressed by automation, most robotics technologies today are purpose-built for single tasks. As described by Agility Robotics CTO Dr. Jonathan Hurst in a recent blog post, Agility's robots are built to be versatile, cost-effective and durable helpers to people.
"We're deepening our investment in Agility Robotics because their robots solve the labor shortages plaguing businesses and wreaking havoc on supply chains," said Matt Ocko, Co-Managing Partner, DCVC. "Agility's robots are designed to free people from repetitive or unpleasant tasks, allowing them to take on the more fulfilling work they can do better than any robot."
This capital raise will accelerate the delivery of the next generation of Agility's robots, extending the company's track record of execution that began with its first customer shipments in 2018. Agility's most advanced robot will be deployed at customers' sites later this year. As has been its practice since the company's founding, these deployments allow Agility to iterate with customer feedback and gain insights into operating environments, discover new uses for its robots, and refine their capabilities.
"The purpose of the Amazon Industrial Innovation Fund is to support emerging technologies through direct investments, designed to spur invention and solve for the world's toughest problems across customer fulfillment operations, logistics, and supply chain solutions," said Katherine Chen, Head of Amazon Industrial Innovation Fund. "Agility's approach to designing robotics for a blended workforce is truly unique and can have a significant ripple effect for a wide range of industries, and we hope others follow suit to accelerate innovation in this way."