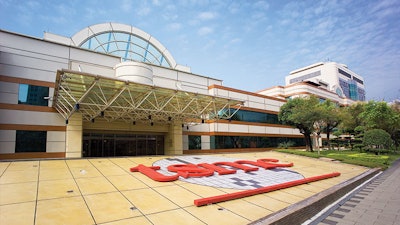 Taiwan Semiconductor Manufacturing Co. Ltd.
Taiwanese electronics giant TSMC plans to invest $12 billion in a new semiconductor fabrication plant in Arizona.
The factory — TSMC's second in the U.S. — would be able to produce 20,000 semiconductor wafers per month, company officials said. The facility itself is expected to create more than 1,600 high-tech jobs, with thousands of indirect jobs likely to be added nearby.
The project is slated to last from 2021 to 2029, with production beginning in 2024.
"This project is of critical, strategic importance to a vibrant and competitive U.S. semiconductor ecosystem that enables leading U.S. companies to fabricate their cutting-edge semiconductor products within the United States," TSMC officials said in the statement.
The announcement followed a report that TSMC was in talks with the U.S. government and major customer Apple about building another U.S. plant to complement its current factory in Washington state and design centers in California and Texas.
U.S. officials, however, are reportedly concerned about the tech sector's increasing reliance on Taiwan — particularly in light of the disruptions in supply chains caused by the COVID-19 pandemic — and Democratic lawmakers this week raised questions about potentially undisclosed subsidies and national security implications. The TSMC announcement said only that the federal government and the state of Arizona had committed to support the project.
Analysts also told MIT Technology Review that the announcement likely represents another front in the U.S. campaign against Chinese tech giant Huawei, another major TSMC customer. The company's new factory would reportedly mean its 5-nanometer chips would fall under new U.S. restrictions on companies selling to Huawei.