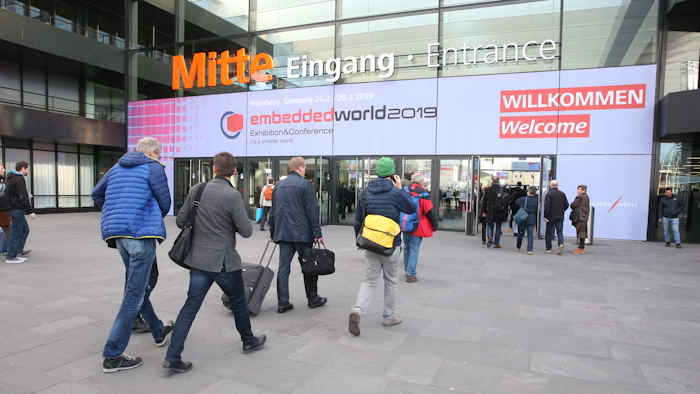 NuernbergMesse/Frank Boxler
A major electronics trade show will take place as planned despite ongoing concerns about a virus outbreak in China — and the noticeable absence of several top companies.

Executives of the Nuremberg Exhibition Center confirmed that Embedded World would open next week and reiterated German trade officials' declaration that all expos in the country would go ahead.

"We have already successfully held three world-leading exhibitions with more than 150,000 exhibitors and visitors this year without experiencing any health issues," Roland Fleck, one of the center's CEOs, said in a statement. "Thus, our visitors can expect highly professional conditions and valuable experience at Embedded World."

Officials said they consulted with health authorities and "carefully weighed" their options before making the decision to open the show Tuesday. The German trade fair industry directed its members to take numerous steps to discourage the possible spread of the coronavirus at the nation's trade shows, including placing medical personnel on site, enacting cleaning and disinfecting policies and establishing a "no-handshake policy."

The decision follows the cancellation of the annual Mobile World Congress show in Barcelona — which was also slated to take place next week — when numerous major tech companies backed out due to coronavirus concerns. Embedded World officials lamented that "some customers cancelled on short notice."

Electronics Weekly reported that Digi-Key, Arm, Rohm Semiconductor, FTDI and Bridgetek were among the companies to cancel their planned appearances, and Mouser added its name to the list on Wednesday.

"The health of our employees, customers and colleagues is our foremost priority," Mouser wrote in announcing its decision.