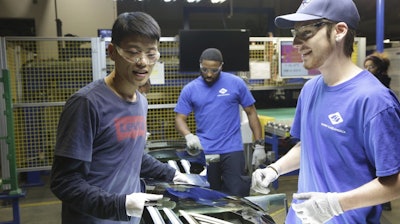 Aubrey Keith/Netflix via AP
A Chinese manufacturer of automotive glass this week announced plans for a $46 million expansion at its Ohio factory.

Fuyao Glass America said the project in Moraine, Ohio, will bolster production of after-market auto glass, including for Columbus, Ohio-based Safelite. The expansion would also incorporate new R&D investment, add new equipment and create 100 new jobs, state and company officials said.

About 2,300 people currently work at the suburban Dayton site, which was home to a General Motors assembly plant from 1981 to 2008. Fuyao's move into the shuttered plant, and the facility's subsequent issues involving workplace safety and union organizing, were detailed in the 2019 Netflix documentary "American Factory."

"The automotive industry is global, and without our initial investment in the U.S., Fuyao wouldn't have been able to grow and support our many great customers," Cho Tak Wong, the company's chairman, said in the announcement.

Ohio officials noted that the company made the decision to expand in Moraine without additional state or local incentives.

"This expansion further consolidates Fuyao's footprint in Ohio and demonstrates confidence in the people who are on the job here," said Gov. Mike DeWine.