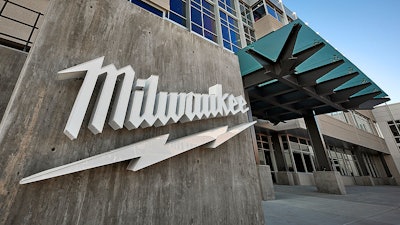 Milwaukee Tool
Power tool manufacturer Milwaukee Tool on Wednesday announced plans to establish a new campus in Wisconsin and add nearly 900 more jobs in the state.

Company officials said the additional facilities in the Milwaukee suburb of Menomonee Falls — about five miles from its headquarters in Brookfield — would offer the flexibility to consolidate operations and grow worldwide.

The company also said it would invest $7.5 million in an expansion of Imperial Blades, a subsidiary in the Madison suburb of Sun Prairie, Wis.

"We are pleased to be able to assist the company as it continues to grow in Wisconsin by leaps and bounds," Wisconsin Economic Development Corp. secretary and CEO Missy Hughes said in a statement.

Milwaukee Tool originally agreed to an $18 million state incentive package to expand its Brookfield campus in 2016, when it pledged to add nearly 600 jobs. The contract was amended to add another $8 million for 350 new jobs last year.

The latest change would add $20 million in incentives should the company meet its hiring goals through 2025.

WEDC officials estimated that the approximately 1,800 jobs added by Milwaukee Tool over that span would translate to another 4,000 indirect new jobs in the Milwaukee area.