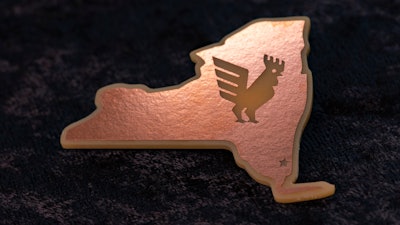 Bantam Tools (Twitter)
A manufacturer of desktop CNC machines on Monday held a ribbon-cutting ceremony to open its new headquarters north of New York City.

Bantam Tools, which was originally established as Other Machine Co., relocated from Berkeley, Calif., into a century-old facility along the Hudson River in Peekskill, N.Y. The company invested more than $5 million to overhaul the site, which is expected to house 54 new jobs.

Bantam CEO Bre Pettis, who previously co-founded 3D printer company MakerBot, suggested Monday's ceremony was only the beginning of the tech investment in the Hudson River Valley. Pettis, who acquired and rebranded the company in 2017, moved Bantam nearly 3,000 miles, in part, to be closer to his home in nearby Croton-on-Hudson, The Journal News reported.

"This is our first step in creating a hub of innovation and manufacturing in the Hudson Valley," Pettis said in a statement.

Bantam's CNC machines are used by electrical and mechanical engineers, university labs and makerspaces to produce printed circuit boards.

New York state is expected to offer the company $10 million in urban redevelopment investment and $600,000 in tax credits, officials said.