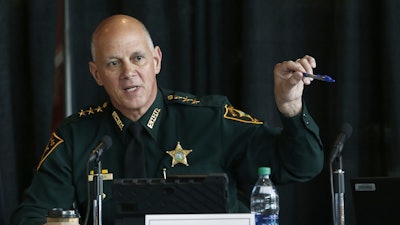 AP Photo/Wilfredo Lee, File
A Florida sheriff's department is seeking more than $300,000 from a nearby gun manufacturer after a series of problems with its AR-15 rifles.

The Tampa Bay Times reports that the Pinellas County Sheriff's Office, whose jurisdiction includes the cities of St. Petersburg and Clearwater, pulled more than 300 guns out of service after officers reported problems with their triggers, inadvertent shifts into fully automatic mode, and failing to fire altogether at a practice range.

Sheriff Bob Gualtieri told the paper he is demanding a refund for the guns and threatened to sue if the manufacturer — Adams Arms of Odessa, Fla. — declines to issue one.

Adams, headquartered just outside Pinellas County, is a relatively small gun maker established in 2007 and operating under new ownership this year after its former owner defaulted. Florida sheriffs, the paper noted, are not required to award larger contracts through the competitive bidding process normally used by local governments.

Gualtieri indicated the deal was evaluated and vetted by a training deputy who cited "internet research," the Times reported.

The company told the paper that it stands by its products and indicated it offered to inspect and test Pinellas County's rifles. Neighboring Pasco County, which also uses Adams rifles, has not experienced similar issues but is reviewing the matter.

"We are committed to the law enforcement community and the mission that they serve," Adams Arms Holdings President Jason East told the Times.