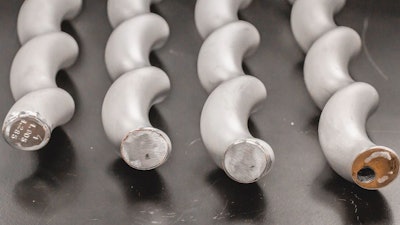 Modumetal Inc.
Toyota's supply chain subsidiary will establish a joint venture with a Seattle startup that produces next-generation alloys with electricity instead of heat.

The companies announced ModuTAI — formed by Modumetal and Toyota Tsusho America — at the International Fastener Expo in Las Vegas last week. The new venture will set up a manufacturing facility in Houston in hopes of increasing the production capacity of Modumetal's nanolaminated alloy, known as NanoGalv, 10-fold.

"Toyota Tsusho Group has a long history and exceptional track record of quality and scale in our manufacturing ventures," Arthur Harrison, who leads TAI's metals operations, said in a statement.

Modumetal says its proprietary process results in a material that is stronger, lighter, more durable and more corrosion-resistant than conventional alloys. And because it relies on electricity rather than heat, it can be produced at near-room temperatures and similar price points.

The startup currently serves companies in the energy sector, but the joint venture hopes to expand to fastener and bolting applications in the automotive, construction and marine segments, as well as extend its current licensing strategy.

"With several recent, corrosion-related automotive recalls over the past twelve months, our NanoGalv coatings are enabling a breakthrough in safety at a critical time for the market," Christina Lomasney, Modumetal's founder and CEO, said in the announcement.