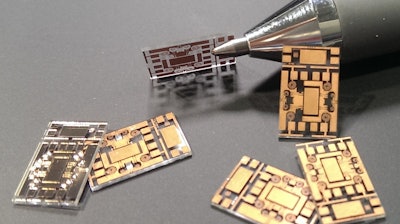 3D Glass Solutions Inc.
Lockheed Martin this month invested in a manufacturer of electronic components and other devices made from glass-based materials.
3D Glass Solutions says its APEX material allows production of passive radio frequency devices with high performance and low transmission loss at the high frequencies required for avionics, space and security systems. Officials added that its systems offer engineers "unprecedented component design freedom."
The Albuquerque-based company said last week that Lockheed's venture investment arm participated in its second fundraising campaign.
"We are grateful that the Lockheed Martin Ventures team recognizes the impact 3DGS can have on next-generation, GHz spectrum systems operation," President and CEO Mark Popovich said in a statement.
Lockheed officials, meanwhile, said 3GDS technology could help address demands for reduced size, weight and power requirements in its systems.
"We look forward to our relationship with 3DGS and gaining access to its advanced component design capability for high-frequency and heterogeneous electronics applications," added Lockheed Martin Ventures General Manager Chris Moran.
Details of the investment were not disclosed.