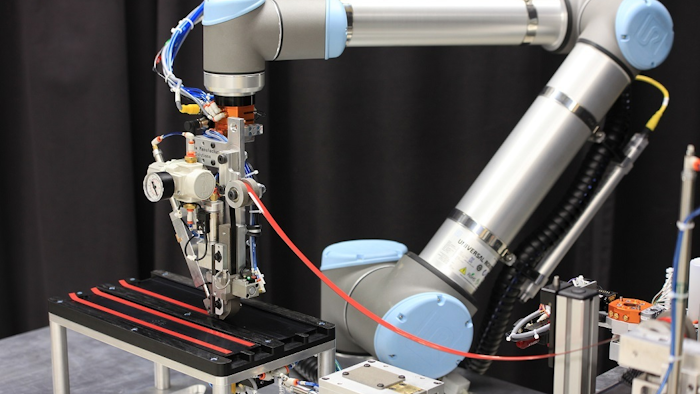 Business Wire
Industrial giant 3M this week unveiled a new system with a collaborative robot that it says can position or apply tape and adhesives in manufacturing facilities.
Although the 3M Automated Taping System could conjure visions of a much easier season of holiday gift wrapping in 2019, the mechanism actually aims to help automakers and other industrial customers apply 3M Attachment Tapes more efficiently.
"We believe the 3M Automated Taping System will fundamentally change how companies handle and apply millions of linear feet of 3M Attachment Tape every week throughout the world," said Daniel Burseth, the vice president of business development at Michigan engineering firm Eckhart, which jointly developed with system with the Minnesota-based adhesives maker.
Industrial tape is used in many different sectors and applications, but the process of applying it is still largely performed by workers — a method can be labor-intensive, error-laden and lead to injuries for workers carrying out repetitive tasks over long periods.
The 3M system, by contrast, would ease employee workloads and save companies significant time and labor, the companies said. Officials vowed the ATS would be simple, flexible and cost-effective, as well as reduce the overall space manufacturers would need to dedicate to tape application.
Eckhart said the ATS could apply adhesion promoters, create extended liner tabs, make die-cut pieces or lay 3M's attachment tape "on any part or surface."
"Our goal was to jointly develop an automated solution that delivers real value to 3M Attachment Tape customers all over the world," said 3M Automotive and Aerospace Solutions' Rachel Moses.